Welcome to Sole Serenity Reflexology
What is reflexology?
Reflexology is a natural, non-invasive therapy that supports the body's ability to heal itself. By using specific hand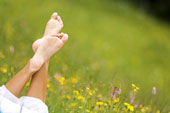 techniques, alternating pressure and friction are applied to various reflex points throughout the hands and feet. These reflex points correspond to all of the body systems, glands, organs, muscles and nerves.
The stimulation of these reflex points produces physiologic changes, including an improvement in circulation and lymphatic drainage and restoration of homeostasis. Because reflexology works through the nervous system it also is extremely effective in reducing stress and tension.
Reflexology is an excellent therapy for preventing and relieving many health conditions for all ages, ranging from infants to the elderly. It is especially beneficial to the elderly or those who are suffering from chronic or autoimmune disorders, due to its ability to support the body to clear away toxins which have accumulated over time or from disease. Clinical studies throughout the world have demonstrated its ability to eliminate or alleviate symptoms associated with medical conditions such as fibromyalgia, neuropathy, rheumatoid arthritis, osteoporosis, and chronic fatigue. Cranio-Sacral reflexology is specific for sinusitis, migraines, whiplash, sports injuries, and digestive disorders.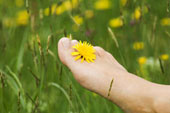 ---
Marilyn Alling is a clinical reflexologist trained in various methods of reflexology including the Universal and Father Josef methods and Cranio-Sacral reflexology. In addition to her private practice, Marilyn provides reflexology in a clinical setting to cancer patients while receiving their chemotherapy.
---
Testimonials
"I have been a client of Marilyn Alling for three years. I always come away from a treatment feeling extremely calm and relaxed. She is a gifted reflexologist. Marilyn's combined treatment of hand and foot reflexology has an amazing effect on my well-being and I highly recommend it to everyone."
~ Roberta W.
I have had many reflexology sessions with Marilyn over the years. My body actually tingles with anticipation as I drive to her office. Reflexology is like no other modality I have experienced. The atmosphere is warm and relaxing, Marilyn's attention to me and my health is knowledgeable and complete. During the session she will ask me if I have any health issues and give extra attention to those reflex points in my feet. I feel tingles in my neck or back or knees as she works on those areas. My favorite is hand reflexology when the energy actually tingles all the way down my neck, arms and legs, releasing my stress. I leave each session calmed, happier, and relaxed.
~ Marilyn H.
After a long stressful day, there's nothing like a reflexology session with Marilyn. It will put your mind, body and spirit into perfect harmony. You will absolutely come out in a more relaxed state than when you went in. I highly recommend it to everyone.
~ David L.
---
77 W Main Street, Lower Level · Hopkinton, MA 01748 · 508.529.4310